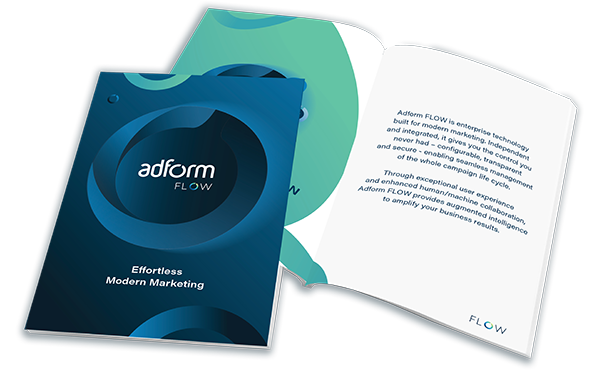 Introducing Adform FLOW
To learn how we are solving your business challenges, download a digital version of our product brochure, where you'll learn about our modular approach to the Demand Side Platform, Data Management Platform, and Ad Server. 
If you would like further information, you can also Request a Demo
Effortless Modern Marketing
For the past three years, Adform has focused on completely revisiting and re-imagining every assumption made about the role of advertising technology as an enabler for the modern marketer. In an industry that often suffers from unnecessary and excessive complexity, we wanted to set fresh expectations around partnership and control.
This meant building a new user experience that placed the marketer, rather than features or technical capabilities, at the center of an integrated advertising platform. An experience realized through an intuitive interface that would promote seamless, collaborative workflows to service the complex and individualized needs of modern advertisers.
This re-imagining of the advertiser/technology relationship is Adform FLOW – independent and integrated enterprise technology built for modern marketing. Amplified by next-generation augmented intelligence, it has been created to realize three key principles: operating simplicity, seamless and full identity management, and to give control back to marketers. 
Adform FLOW is the industry's most advanced advertising platform, and we cannot wait to see how it changes your expectations for how effortless modern marketing should feel.
The Point Solution Paradox
The modern marketer faces a fragmentation of solutions and constantly increasing pressure to meet ever-evolving KPIs leading to a challenging paradox. To attempt to stitch together individual point solutions that may, or may not work well together or to sacrifice autonomy in favor of the walled gardens.  With the introduction of Adform FLOW, we're providing the modern marketer a third option that brings the best of both worlds. Join our COO, Oliver Whitten, as he explores the point solution paradox, and maps a path to solving it.
Providing Exceptional User Experience for Amplified Business Results
At the heart of Adform FLOW is a commitment to simplifying every aspect of the campaign life cycle. A superior user experience delivers efficiency gains, reduces fatigue, and helps you identify and act on opportunities in real-time. For the modern marketer this starts with facilitating empowered communication across your internal teams, regardless of geography, organizational structure, seniority or domain knowledge.
Delivering the Control You Never Had
Adform FLOW is a platform that gives you full cost transparency at every step of the journey. Developed as a unified technology, running on a single architecture with centralized user experience, Adform FLOW delivers complete insight and control over what happens across the entire platform. The seamless pairing of our advanced machine learning and algorithmic excellence also provides a significantly improved human/machine empowered experience. The path to effortless modern marketing begins with putting you firmly in the driver's seat fully informed, fully in control.
Giving You a Future Proof Identity Solution
With Adform, you benefit from a platform tailor-made to navigate, prioritize, and activate your data across your entire campaign life cycle, not just a sliver of it. As one of the early leaders in building with privacy-concerns in mind, we have also developed an identity solution that is adaptable and future safe. Moreover, this has been done without forcing you to compromise your proprietary data via platform lock-in, loss of control, signing away data ownership, or stitching together a complex daisy-chain of identity providers. From the point of capture, to measurement, to enriching data, activation and then analysis – with Adform FLOW you will always be the master of your data.